BILL Owen a loyal supporter of our charity and the man who brought Tour de France stars to Wales, has stepped down from organising cycling events.
(The main body of this article was written by Gary Baker and first appeared on the South Wales Argus on the 23rd Dec – sadly following a tragic accident Gary passed away on the 11th January)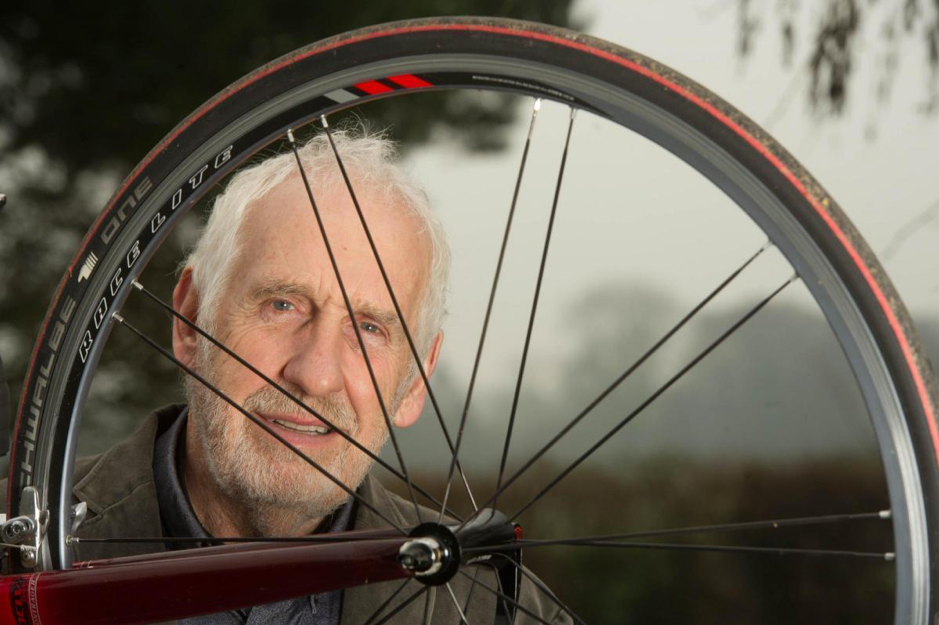 76-year-old Bill has retired due to ill health, meaning an end for the Abergavenny Festival of Cycling, which ran every year since 2007 until coronavirus forced its cancellation this summer.
Bill attended the Nevill Hall Cardiac Rehabilitation programme as long ago as 1991 following a heart attack and came under their care again in 2016 after four stents.
He was awarded an MBE for services to cycling, which spanned close to 60 years, and he was also inducted into the British Cycling Hall of Fame in 2016, given a lifetime achievement award by Welsh Cycling in 2013 and won organiser of the year on several occasions for his beloved Abergavenny Festival of Cycling. This event took an incredible amount of organising in which the North Gwent Cardiac Rehabilitation Charity were pleased to take a small but important part. Volunteers supported the course feed stations, ran stalls in Baily Park and also took part in the cycle events – in turn for which Bill made a generous donation.
He won the Welsh Road Race Championships in 1963 and was featured on the front cover of national magazine Cycling Weekly, which he still has framed in his Abergavenny home.
Bill organised his first race in 1985, the Grand Prix of Wales, and staged the first of seven National Road Race Championships in Wales in 1996, the inaugural event as the sport went open.
He was asked by Cardiff to help stage the 2000 men's British Elite Road Championships (the Nationals) and brought the Women's World Cup to Newport in 2005 after twice staging the men's National Road Race Championships in the city in 2003 and 2004.
From 2007 to last year, the three-day Abergavenny Festival weekend included televised British Cycling Town Centre Crits Series races, a mass participation Iron Mountain Sportive, where anyone could ride around Monmouthshire, and the Grand Prix of Wales which was also, on three occasions, the annual National Road Race Championships.
Those National Championships in Monmouthshire saw Tour de France winners Chris Froome, Sir Bradley Wiggins and Wales' own Geraint Thomas in the fields along with many other big names from the sport.
And one of his lasting legacies has been his heavy involvement in getting a Wales National Velodrome – now called the Geraint Thomas National Velodrome of Wales – built in Newport in 2003.
Owen, former president of Welsh Cycling and a long-term Director of British Cycling, said of his retirement: "In 2014, we had the National Road Race and Time Trial Championships, in partnership with Monmouthshire County Council.
"And having Sir Bradley Wiggins comment after the National Time Trials that it 'was the best organised TT he had ridden' was pleasing.
"When I started in 1985, there was a group of volunteers, town's people, who helped put the infrastructure together. In later years, for health and safety reasons, we had to have our own professional team which included my own family.
"We also had BBC commentator Hugh Porter from day one, and running the Iron Mountain Sportive gave us the opportunity to involve our preferred charity, North Gwent Cardiac Rehab, and for other riders to raise money for their own charities."
Tributes were led by Brian Cookson, the former president of world cycling's governing body, the UCI and past president of British Cycling.
He said: "Bill Owen has been one of the best cycle race organisers in Great Britain for so many years that he long ago became part of the history and heritage of the sport.
"Quite simply, he has set standards of race promotion that many other organisers – amateur and professional – have struggled to match."
Hugh Porter MBE, the quadruple cycling World Championships gold medallist, said: "I got to know him over the year with Brenda. They become personal friends.
"It is a sad day for cycling in Abergavenny. I think he has done a massive amount to put Abergavenny and Monmouthshire on the map.
"All the time I worked for him was an absolute pleasure. Diolch yn fawr for everything."
Ian Saunders, Monmouthshire Council's chief operating officer who worked in partnership with Owen to bring the 2014 National Championships to the county, said: "Bill's enthusiasm and drive culminated in Monmouthshire gaining the National Championships.
"What always underlined his tremendous respect in the cycling community is the way people react about him. When I mention his name, they say 'Oh yes, I'll do it for Bill'. I heard this from Tour de France winners, Olympic medallist and national coaches and volunteers."
And great friend Colin Docker, a national official and British Cycling board member, added: "He is one of a kind and, alongside his wife Brenda, they make a great team. Bill is big in stature, big in heart, generous in spirit and never stops working."
Bill Owen with his British Cycling gold badge of honour and jersey signed by Bradley Wiggins.